Get That Summer Body: Barcelona's Top Workout Spots
The days are getting longer, the sun is shining more and the summer is getting closer. People in Barcelona love to be outside during the summer months (also because it is way too warm to stay inside). This is the perfect moment to show off your new yoga exercise, your new summer outfit or to show off your summer body. For everyone who wants to start training to get that perfect summer body or for everyone who is curious about finding a workout spot: here is our top selection of places where you can put your body to the test.
DiR
DiR has one of the most gyms throughout Barcelona making it easy to find one near your ACCOMMODATION, no matter where you are staying. We especially recommend DiR Claris, just a block away from our office, here you can find all the latest fitness equipment you need. Besides the normal fitness rooms, you can find a steam room, jacuzzi, different dance classes and the jambox (a room for boxing and bodyweight exercises). The DiR clubs also tend to have rooftop terraces, nutrition services, massage and physical therapy.

Clubs Metropolitan
One of the most popular gyms in Barcelona is Clubs Metropolitan with a total of 22 locations in Spain (7 of those being in Barcelona). Their facilities offer the latest equipment, luxurious changing rooms that include a spa and wellness centre, swimming pools, jacuzzi, saunas, rooftop terraces with solarium and a full schedule of classes taught by professionals. They even have a restaurant with a carefully designed menu featuring healthy, balanced dishes. Each new Club Metropolitan member gets a personal interview with a trainer in which he or she can plan a program with which to reach their fitness goals.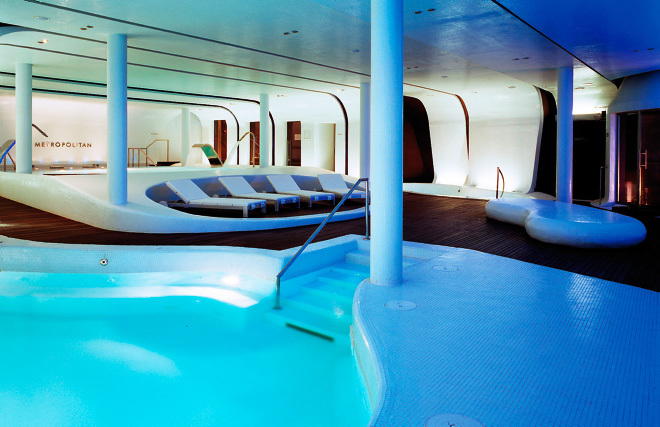 Holmes Place
If you are looking for a high-end fitness chain then Holmes Place might be something for you. This international chain of health clubs has a number of outposts in the city, including one in Gracia. At this branch of Holmes Place, they offer a staggering 175 classes to aid your fitness and well being. The services on offer are an acclimatized pool, a relaxing zone with a sauna, and physiotherapy.
Callisthenics park, Barceloneta
Barcelona is also an excellent place for working out while enjoying the sun. Colloquially also known as Muscle Beach is a spot at the end of the Barceloneta beachfront. It has lots of different bars for working out – pull up bars, high bars, low bars, monkey ladder, wall bars, parallel bars and a snake bar. There are outdoor showers just next to the station, so you can rinse off after your workout. It can get crowded in the afternoon, so early morning and evening are the best times to work out down here.