Hidden Spots in the Gothic Quarter
El Barrio Gótico (Gothic Quarter), for some an overcrowded touristic area to avoid, for others a must-see when visiting Barcelona. However, Urbane's team knows some hidden spots apart from the big touristic highlights like La Rambla, the Cathedral, or Plaça Reial.  Take a deep dive into the history of Barcelona together with Urbane, come along with us and take a look!
Urbane's first hidden square is Plaça Sant Felip Neri. This pretty little square, hidden in the middle of the old Jewish quarter, has a very sad history: it is here where one of Franco's bombs exploded during the Spanish Civil War in 1938. This bombardment was the second-worst bombing in Barcelona during the war. The holes in the walls, which you can still see today, are remnants of this bombing.
If you want to escape the crowded streets of el Gótico, this is your place to go!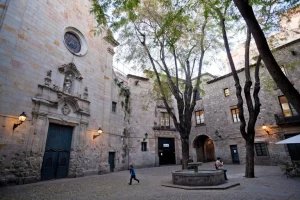 One of the most famous cafes in Barrio Gótico is Els Quatre Gats, which is Catalan for "the four cats". Le Chat Noir, a Parisian bar, served as the inspiration for this establishment. Three artists who had all worked as servers in this pub opened Els Quatre Gats in Barcelona in 1897, and it quickly became one of the city's most famous modernist hotspots. Other painters, architects, and musicians, like Pablo Picasso and Antoni Gaudi, would congregate here to drink. In fact, in 1900, it was here that Picasso held his first and second solo exhibits.
In a building on Carrer Paradís number 10 in Barcelona's Gothic Quarter, you'll find one of the city's best-kept secrets. The four columns from the Temple of Augustus have remained inside a small medieval courtyard despite the time. They, like Barcelona itself, are over 2,000 years old.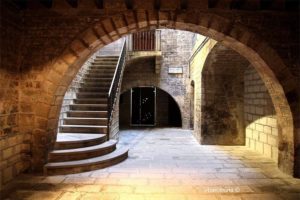 The Monastery-Church of Santa Ana
Urbane's last hidden spot in the Gothic Quarter is actually very well-known for tourists. The Church of Santa Ana is located in Santa Ana street, near Plaça de Catalunya. The complex gives its name to the district of Santa Ana, one of the members of the Gothic Quarter.  The courtyard of the monastery of Santa Ana is a peaceful and quiet spot, perfect if you want to escape the tourist crowds in the Gothic Quarter.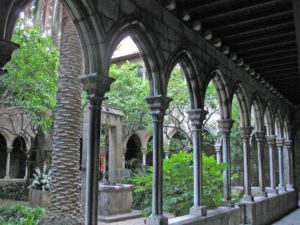 We truly hope this post was useful for you and that you are triggered to explore the beautiful neighbourhood of the Gothic Quarter! Urbane has multiple stunning properties in the Gothic Quarter, take a look here.